Did you know that there are over 7000 results for hair loss shampoo on Amazon? If you are overwhelmed with choosing the best organic hair loss shampoo, then your have come to the right place. We have gone through all the ingredients of each shampoo to narrow down the top 5 products to find the absolute best ones.
Before we get into the results, we know that everyone has different hair types and different types of hair loss, and that is why our reviews cover a wide range of shampoos with various natural ingredients. We are confident that these products are the best for both men and women alike and can be an effective treatment to help trigger hair growth.
Our reviews of the following products are unbiased.
---
Our Reviews of The Best Natural Shampoos For Hair Growth
The following table gives a quick rundown of the best shampoos for hair loss with all the important stats and our final rating. Below we go into more detail of how we came to our ratings.
Heads Up: This post contains affiliate links. If you buy something from one of the links, it won't cost you anything more, but we may earn a small commission. We do our best to only recommend the best products for you. We appreciate you helping us to further our mission of helping people get healthy and to protect the environment.  
---
Product
Our Rating
Number of Organic Ingredients
Sulfate and Paraben Free?
Notable Ingredients


#1 Laritelle

9.5/10
17
Yes
Tea Tree
Keratin
Rosemary Oil
B-Vitamins
Vitamin E


#2 Pura D'Or

8.4/10
7
Yes
Biotin
Saw Palmetto
Argan Oil
Vitamin E
Rosemary


#3 Shea Moisture

8.1/10
2
Yes
Jamaican Castor Oil
Peppermin Oil
Keratin
Shea Butter


#4 Dr. Hempster

7.3/10
4
No
Biotin
Saw Palmetto
Argan Oil
Peppermint Oil


#5 WOW

7.1/10
0
Yes
Argan Oil
Castor Oil
Saw Palmetto
Apple Cider Vinegar
---
If you are looking for the best organic shampoo for hair loss, then your search is over.
Laritelle Fertile Roots shampoo is the best herbal shampoo with the best natural ingredients, including a whopping 17 organic ingredients. Therapeutic grade herbs, protein, antioxidants, and a bunch of organic content makes this shampoo stand out at the top of the list for both men and women.
Things like organic coconut oil and essential vitamins work to nourish the hair follicle. Also, it has essential oils like rosemary extract and lavender, which not only give it a great scent, but are also some of the best essential oils for hair growth.
Every ingredient seems to be chosen with care to make the perfect formula, so you can be sure it is paraben and sulfate free.
Although it brings a heftier price tag, the reviews will have you hooked. This might be the best hair product I have ever used.
Men and women rave about their quick hair growth from newly stimulated hair follicles, moisturized scalp, and enhanced blood flow. They also say that it makes their scalp feel energized and moisturized, and leaves a stimulating feeling on their head.
You should definitely check out this natural product if you want the best shampoo. The matching conditioner is a must have as well.  If you want to read more, check out the full Laritelle organic shampoo review.
---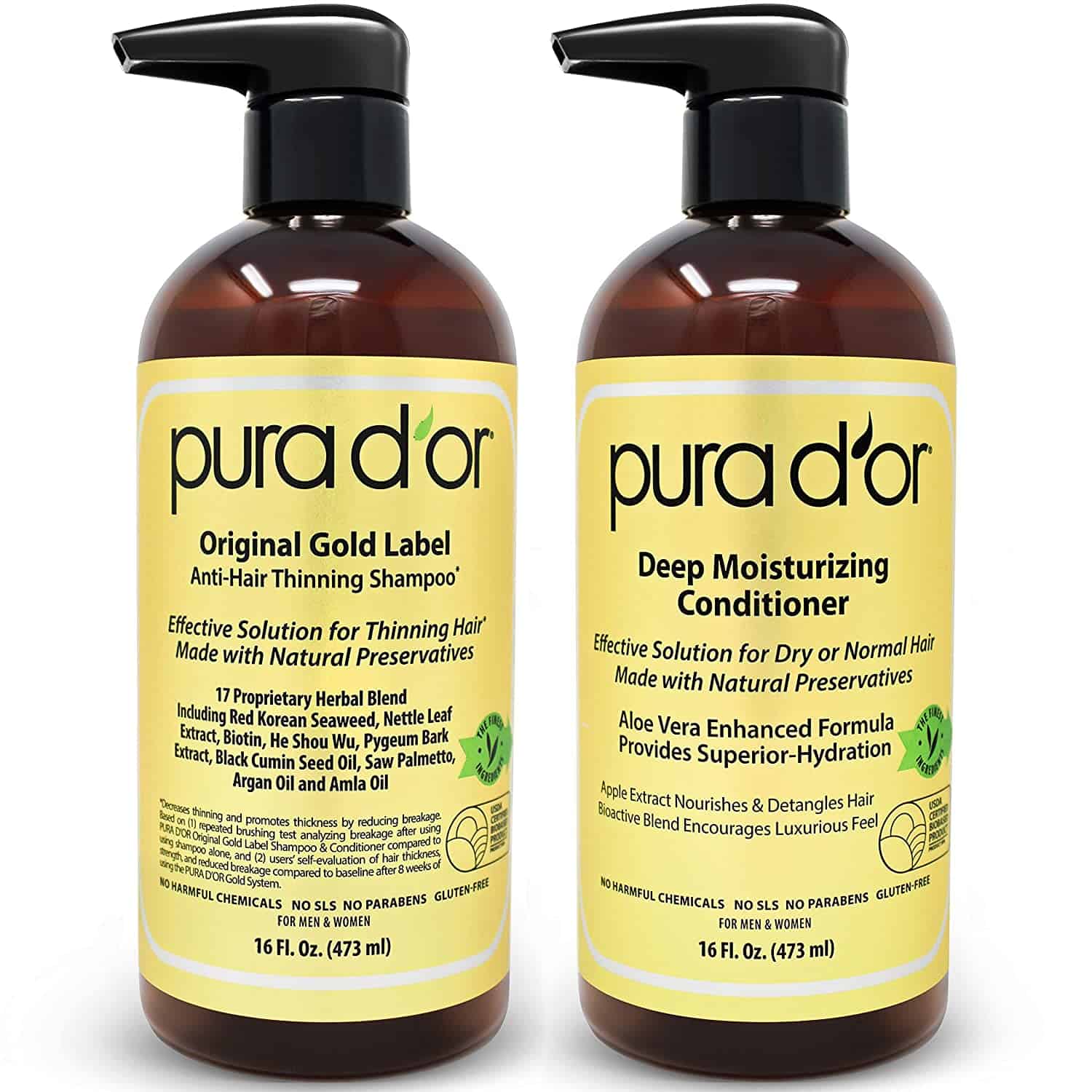 With 7 organic ingredients, Pura D'Or Original Gold Label Shampoo with organic argan oil and biotin is one of the most popular and top rated shampoos for hair loss, and for good reasons!
On the label they say that it reduced hair thinning by stopping breakage. This promotes hair thickness and volume.
It is free from parabens and sulfates and has a ton of essential vitamins and active ingredients in the formula including biotin, aloe vera, rosemary, and zinc. Many people say that biotin makes their hair grow thicker and even can help stimulate new hair growth.
This shampoo also contains argan oil which is great for thinning hair and improving scalp issues.
Everything above puts it on the list for the best hair product on the market, and you can even get the bundle with the matching conditioner to save money.
---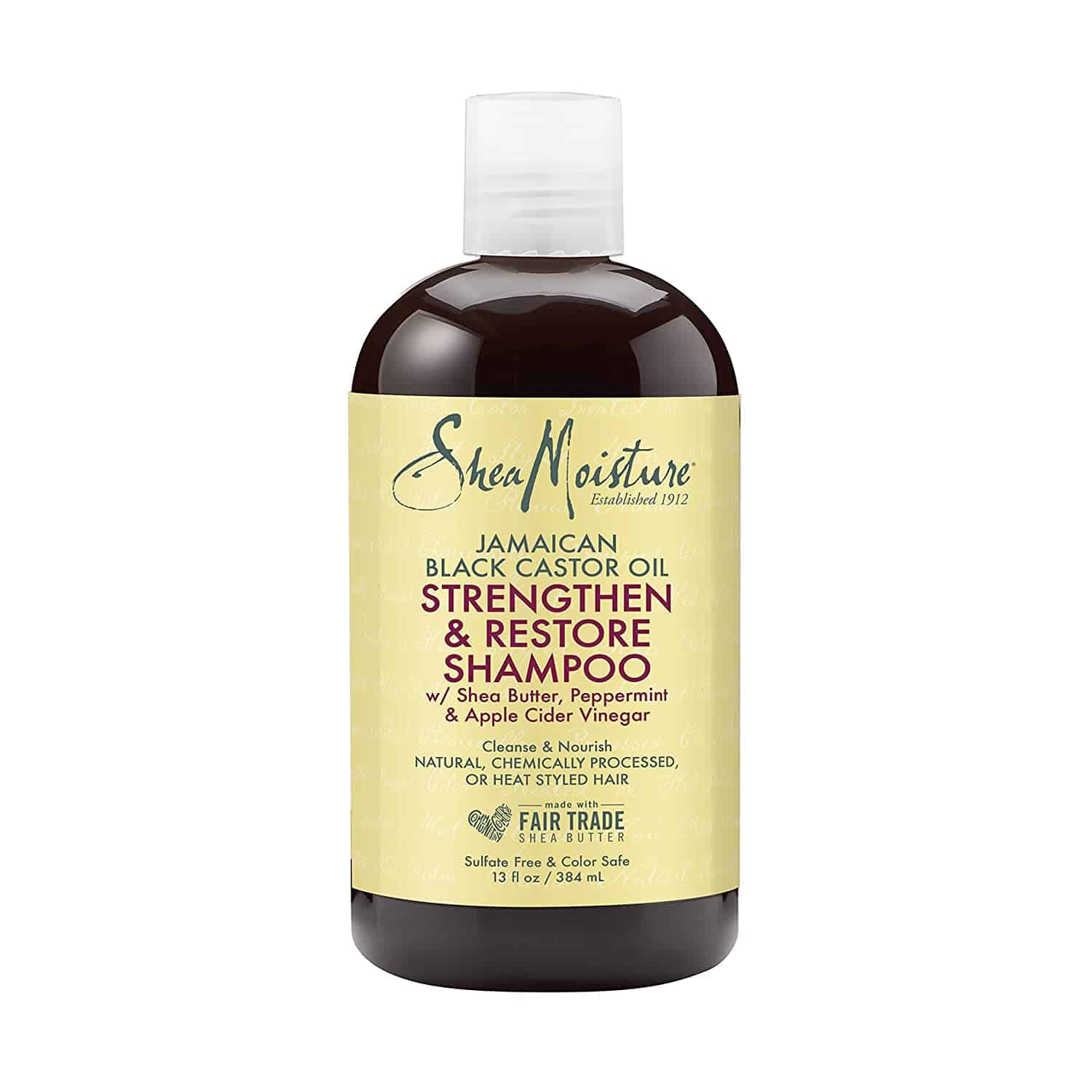 Shea Moisture delivers some high quality hair products and this shampoo is up there with the best of them. This highly rated hair growth shampoo contains organic and natural ingredients and is great for thinning hair.
Shea Moisture Black Castor Oil Shampoo contains castor oil and organic shea butter as the key ingredients, which promote hair growth. When you combine both of those with peppermint and proteins, you have an excellent choice for a shampoo.
This awesome shampoo is also great with wavy and curly hair, which many women love. And regardless, if it fails to stop hair loss, it will leave your hair shiny, full of body, and moisturized.
Did we mention that this was the least expensive of the bunch?
This shampoo is definitely worth checking out.
---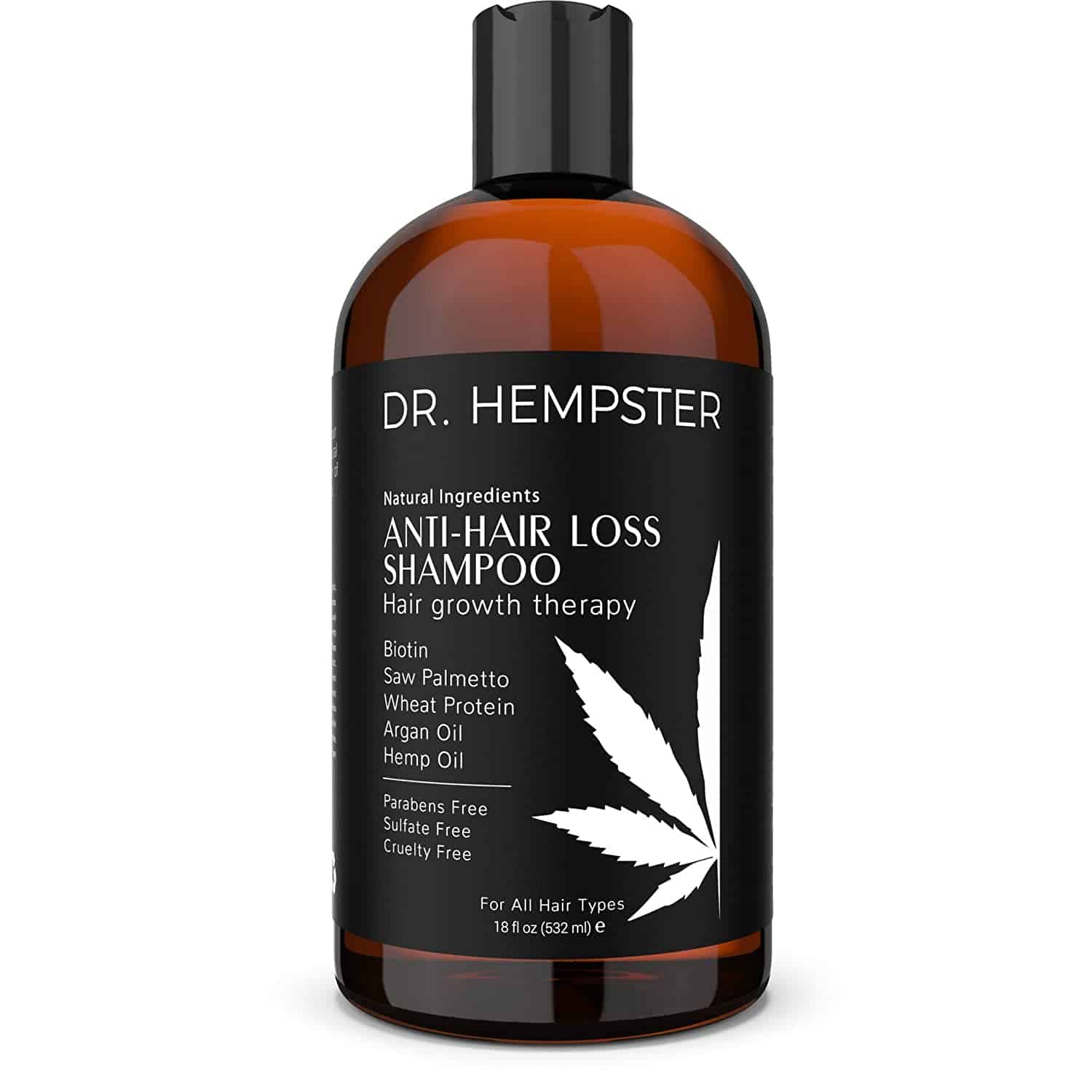 Unlike the other shampoos on this list, Dr. Hempster Anti-Hair Loss Shampoo contains hemp oil. This gives your scalp a boost of healthy Omega-3 oils to thicken and strengthen your hair to promote hair growth.
This growth stimulating shampoo contains key ingredients like cayenne pepper and ginseng root extract which will invigorate your follicles.
All in all, this hair growth shampoo is filled with various things that can definitely help to stop thinning hair and slow hair loss. Did we mention that it also has 4 ingredients that are organic?
There are two things that gave this product a lower rating.
First, the label says that it doesn't include sulfates. Although it doesn't contain SLS, it does contain magnesium sulfate. Although it is commonly known as epsom salt, it is technically a sulfate.
Secondly, it contains Disodium Laureth Sulfosuccinate. Again, this is not as potentially dangerous as Sodium Laureth Sulfate, but it could be potentially carcinogenic.
I would be a lot happier if both of those ingredients were taken out of this shampoo for hair loss and regrowth.
---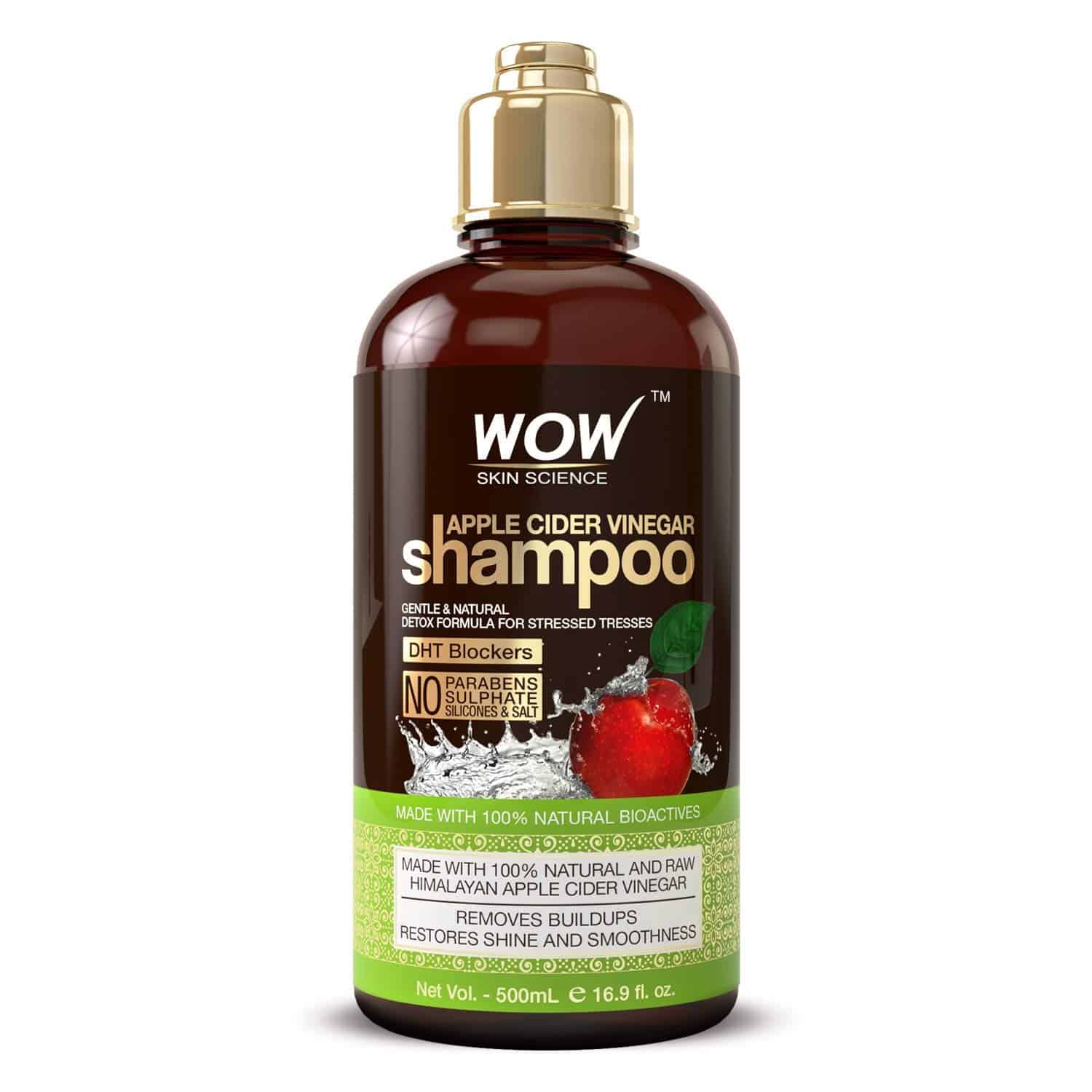 WOW Apple Cider Vinegar Shampoo contains natural ingredients to block DHT which help to combat hair thinning in men and male pattern baldness. This makes it one of the best growth stimulating shampoo for hair loss and thinning hair.
What sets this product apart from the rest is that it contains apple cider vinegar. Not only does ACV contain a number of vitamins and minerals, it also helps to balance the pH of the scalp, which is important when trying to combat hair loss.
Some added benefits of this shampoo is that it can help with dandruff, reduce frizz, and helps strengthen color treated hair.
The one this that dropped the rating on this shampoo was that it contained a petroleum-based dye, sunset yellow fcf 15985, as well as potentially dangerous PEG ingredients.
Be sure to get the matching conditioner too.
To get all the details, check out the WOW Apple Cider Vinegar shampoo review.
---
About Hair Loss Shampoos
Many natural shampoos for hair loss contain a mixture of amino acids and healthy vitamins and oils that help to promote hair growth such as biotin and Vitamin E. And they also contain natural DHT blockers that are found in food and supplements. That sounds great and could be helpful, but what about the other ingredients in the shampoo?
Well, by choosing the wrong shampoo, you could actually damage your hair, cause more hair loss, and hurt your health.
There are harmful ingredients in most shampoos that are outright dangerous not only for your hair and scalp, but for your overall health in general. Some disrupt your hormones, while others can cause cancer.
While switching to a healthy shampoo that promotes hair growth is a great idea for your hair and your health, and it could be effective, it shouldn't be your only step.
If you are serious about improving your scalp health and stop hair loss, then you should take a complete approach. There are many factors that affect hair loss, and by addressing all of them you can potentially reverse your hair loss and regrow your hair.
How To Use Your Hair Loss Shampoo
To get the maximum effectiveness of your new shampoo, you want to follow the steps below.
First off, you don't need to wash your hair every day. Dermatologists say that washing your hair every day removes your natural oils and dries out your scalp, which can do more harm than good.
If you have normal hair, then you only need to shampoo your hair once or twice per week. If it is oily, then you can wash it a little more often.
Apply shampoo to wet hair.
Massage gently into the scalp and hair.
Leave it on for 2-3 minutes in order for the ingredients to nourish your hair follicles and penetrate the scalp.
Rinse your hair thoroughly.
Use matching conditioner to to complete your hair care routine if needed.
Be sure to use it for at least 3 months to see if it helps to prevent hair loss and helps regrow hair. You may notice additional hair shedding at first, but that is part of the process and is completely normal.
In between washing, applying a quality hair growth oil to the scalp and skin will help improve hair thickness even more.
By following the above steps you will gain the most benefits from your new shampoo.
So, Should I Try One For My Hair Loss?
Of course!
If you have come to this page, you are searching for solutions to the hair loss problem. And it could be as simple as choosing a better shampoo.
A lot of the ingredients in these best shampoos have been shown to trigger hair growth and improve overall hair health. Since hair loss is so personal and everyone has a different hair loss type, what could work for one person may not work for another.
So, choose the best shampoo that resonates with you the most. Be sure to use it for at least 3 months to see if it helps to prevent hair loss and helps regrow hair.
With any product, if you notice skin irritation when following any treatment plan, discontinue use of the products and consult your doctor. Speaking with a dermatologist can give you more insight into your specific case and provide more information.
In the worst case scenario, if you do not get any new hair regrowth, the hair that you do have will be healthier and stronger. So, either way you will have your best hair ever. And the ingredients in your new shampoo will most likely be better that your current one, which will increase your overall health.
So, what do you have to lose?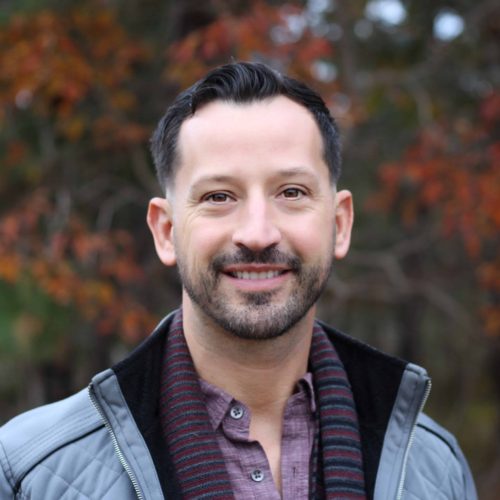 My passion for health and wellness started in 2009. My personal mission is to help inspire and guide people on their health journey. I am currently a NASM certified nutrition coach.