MSM has some truly amazing benefits that can really improve the quality of your life. And one of the best ways to get some of those benefits is to apply a topical MSM cream.
We have put in the time and done the research to find you the best MSM cream that delivers results. These 7 MSM creams combine MSM with some incredible ingredients in some truly unique ways that will blow your mind.
Some of these MSM lotions are for specific uses, while others are a jack of all trades that do it all well. Depending on what you are looking for, there is something on this list for you.
---
THE TOP 7 MSM CREAMS
---
Product
Hightlights
Price


BEST OVERALL
#1 Sun Star Organics





Best Value


All Natural


Daily Moisturizer


Good For Pain Relief



$$


#2 Ancient Minerals





Magnesium Cream


Joint and Muscle Health


Good For Sleep


Stress Relief



$$


#3 Brickell





Men's Face Cream


Reduces Wrinkles and Fine Lines


All Natural


Anti-Aging



$$$$


#4 Kala Health





MSM Gel


Great for Acne


Deep penetration


Use For Burns and Rashes



$


#5 Sunfood





MSM Lotion


Lowest Price


Hypoallergenic


Organic Ingredients



$


#6 Medibliss





Hemp Cream


Pain Relief


Calming


Arthritis and Cramps



$$


#7 Asutra





Magnesium Cream


Better Sleep


Stress Relief


Calm Eczema



$$
---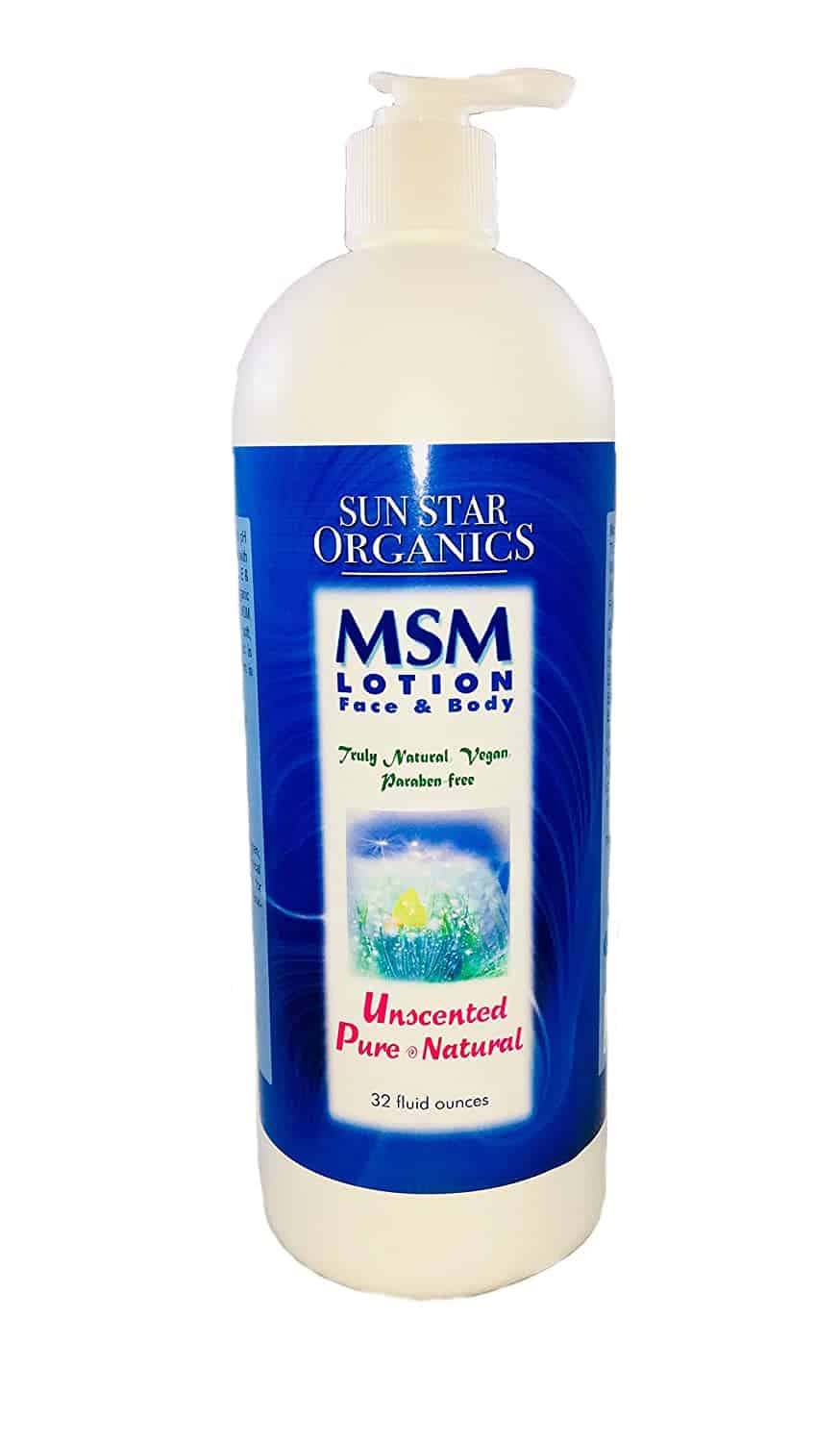 Overview
Sun Star Organics has been using MSM in its products since 1992. So you can rest assured that they know a thing or two about MSM and how to utilize it best.
This California based company stresses the importance of using natural and organic ingredients. That is why they have such an excellent reputation for having the best and purest topical and nutritional health products. And this lotion is right in line with that.
Their second ingredient in this face and body cream is 10% Opti-MSM, which is of the highest purity. It also contains organic aloe vera and sweet almond oil, which are both great for nourishing the skin. Also, it is scented with tea tree oil.
Aside from all the right things inside this lotion, we also love what it doesn't have. That means it is free of parabens and sulfates. And not only that, all the contents are cruelty-free, sustainably sourced, and vegan.
In the end, what matters most is that this product delivers results. There are a variety of reasons that people use this cream. Some use it as a daily moisturizer to help protect and restore damaged skin, while others use it to relieve pain associated with arthritis and carpal tunnel syndrome. And others even use it for shaving. The list goes on and on, but in the end, it works.
Finally, with all the fantastic things they pack inside this lotion, you would think it would be expensive. Actually, with the large 32-ounce bottle, it is the cheapest product on this list in terms of price per ounce. It is an excellent value for your money.
For all the reasons listed, this product claims the number one spot and is the best MSM cream on our list. If you are looking for an incredible product, you won't be disappointed with this choice!
Highlights
Incredible Value
Restores Natural Beauty to Skin
Best MSM Cream for Scars
Hypoallergenic
Pain Relief in Joints
---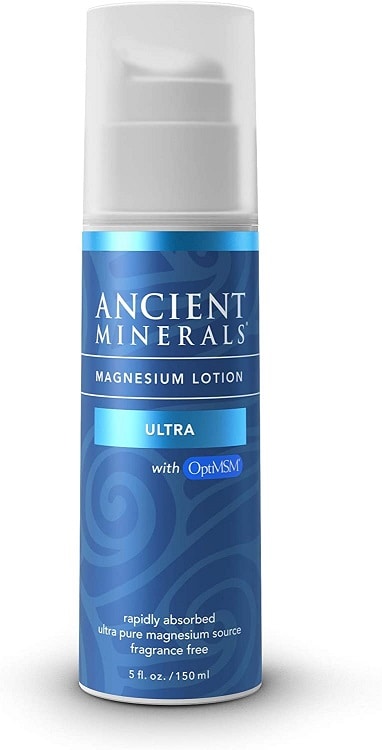 Overview
This lotion from Ancient Minerals has an impressive variation of an MSM cream. They are experts in using magnesium as a topical treatment for health. Because of their high standards, they only use genuine Zechstein magnesium, which is one of the purest and most bio-available forms. Not only that, but they extract it in its raw and natural state.
But enough about magnesium, you came here for MSM. They combine the two because they work synergistically together. One of the benefits of mixing the two compounds is that MSM increases the absorption of Mg so that you can get the best of both worlds.
Some of the primary uses of this lotion are for improved sleep, stress relief, and relaxation, as well as recovery from athletic performance.
Also, did we mention that it also contains Opti-MSM? That is the purest form of it available.
Finally, we also love the company. This is manufactured by Environmedica, which is based out of Texas. They believe in the "scientific philosophy that throughout history, we have evolved with our natural surroundings to develop the innate ability to self-regulate and thrive." And because of that, they do their best to "support functional wellness by correcting for contemporary factors that interfere with our natural ability to maintain vitality."
The bottom line is that this product contains the best ingredients, is doctor recommended, and has a great company philosophy. Once you try this, you will be hooked. We are sure you will love it as much as everyone else who has tried this lotion.
Highlights
Helps relax body and mind
Maximizes exercise benefits through 

inflammation relief

 and 

muscle recovery

Excellent for improved sleep
Great for skin health
Improves acne
---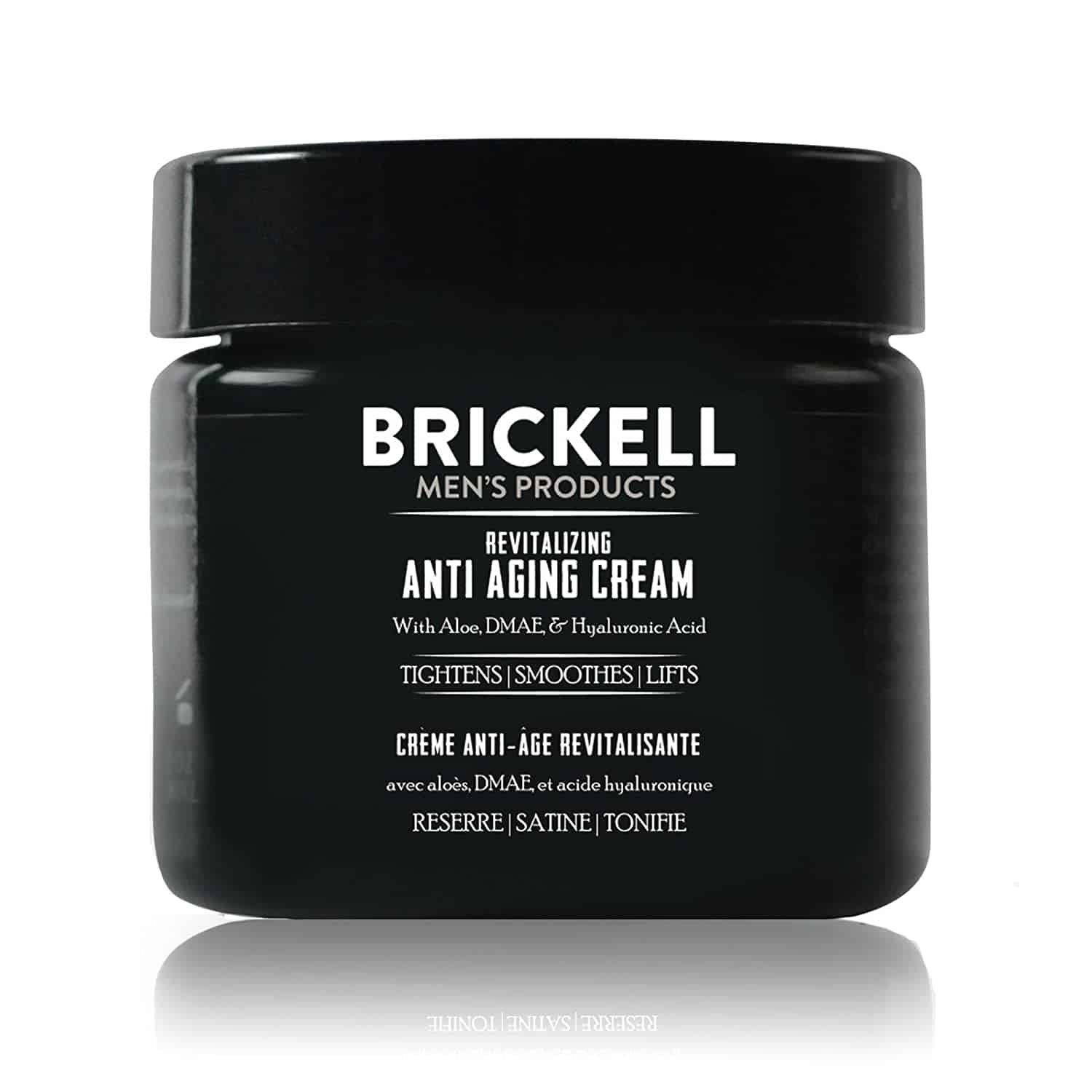 Overview
What happens when you combine MSM with aloe and hyaluronic acid? Well, you get one of the best anti-aging skin creams on the market.
In our previous article, we went over the health benefits of MSM and how it has many properties that act like the fountain of youth. One of those benefits is that it helps to improve skin texture and improves wrinkles. When you combine with it with even more skin-boosting ingredients, you end up with a powerhouse of a face cream.
We also love that the ingredients are 100% natural and 81% organic and is scented with essential oils. Also, it is made in the USA, never tested on animals, and is free of toxic chemicals.
This MSM cream has even shown results with removing the deepest wrinkles and lines, proving that it is a great addition to any skin care routine.
Unfortunately, all this goodness doesn't come cheap. It is the most expensive cream on our list, but if you are looking for a premium face cream to make you appear younger, it is worth every penny. They have a ton of raving fans, and men's magazines like GQ and Men's Health recommend them. In the end, this is the best MSM cream for face issues.
Highlights
Diminishes the signs of aging
Tightens facial skin and prevents wrinkles
Improves skin pigmentation and age spots
---

Overview
I think it would be impossible to have a top MSM list without Kala Health on it. They are one of the premier brands of MSM on the market.
This gel is the no-frills, simple and to the point, topical solution. As always, the only use Opti-MSM in this gel because they only use the best. And since it is not mixed with anything, it can be used for just about anything. From the face to the body and the joints, it works well on everything.
Since there are no additives, this gel works well on cuts, scrapes, and burns to help the skin heal.
People love that it absorbs into the skin quickly and doesn't leave behind any residue, which is especially useful when trying to penetrate deep enough to relieve joint pain and discomfort.
Highlights
Great for cuts, scrapes, and rashes
Wide range of applications
Absorbs fast and penetrates deep tissues and joints
Effective on both skin and face
---

Overview
This MSM lotion by Sunfood is another great product to use as a daily moisturizer. By combining organic vitamins and botanicals, this product is not only effective, but smells incredible.
Some of the other ingredients include shea butter, aloe, vitamin E, and coconut oil, which all serve to nourish and protect the skin. This comes in handy when dealing with scar tissue and things like mosquito bites.
Another great thing about this product is that it is hypoallergenic, which is great for sensitive skin. Also, with scents from botanicals and essential oil, it is gentle on your skin. Many people used it on their face for acne as well.
We also like that it is one of options on the list with the lowest price.
Highlights
Lots of organic ingredients
Great price
Effective all-around cream
Gentle on skin
---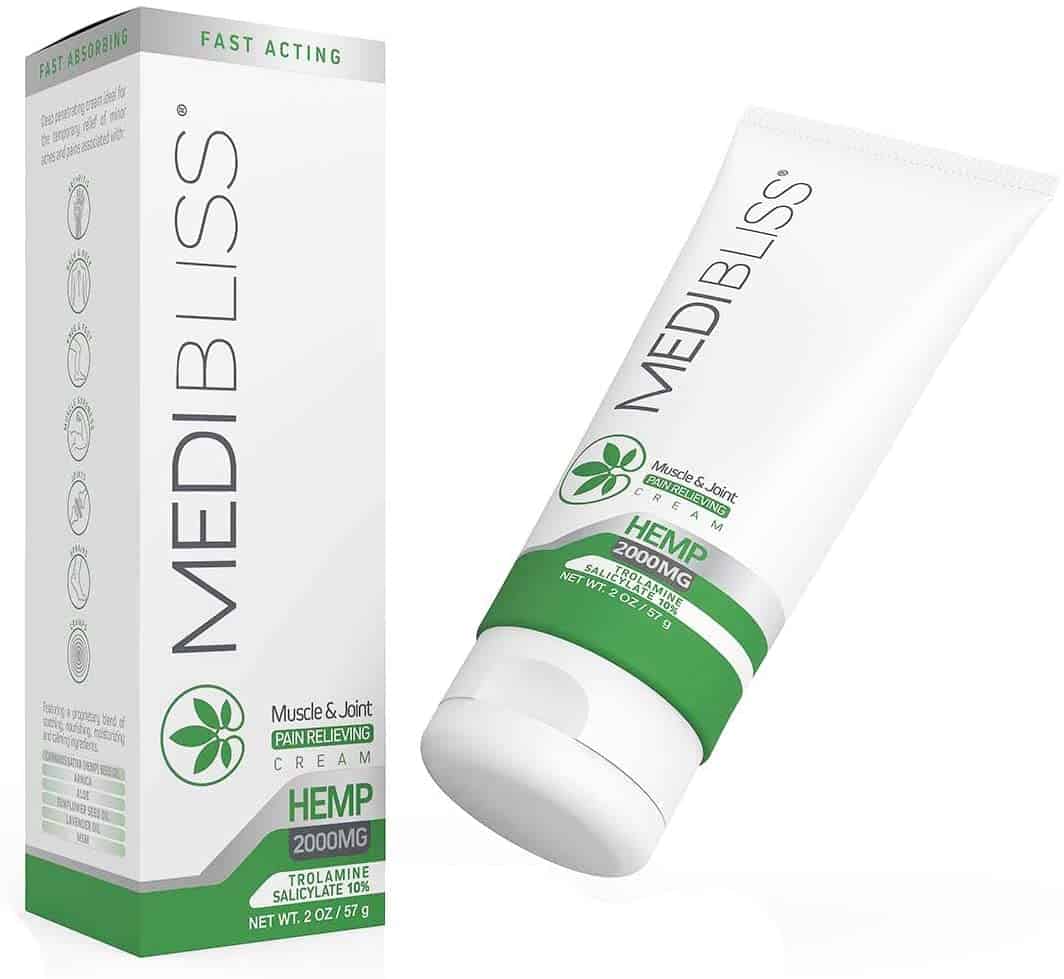 Overview
This cream from Medibliss has a unique way of combining MSM with hemp seed oil. Aside from those two, it also contains many anti-inflammatory ingredients like arnica extract and lavender oil.
Because it is such a potent anti-inflammatory, it excels with different forms of pain relief. These include arthritis, back, knee, and elbow pain.
All in all, this is a good product, although it contains some ingredients that aren't natural. We would have preferred it to be 100% natural, and because of that, we think there are better choices on this list.
Highlights
Pain relief
Moisturizing cream for skin
Helps with cramps
---
Overview
Asutra makes another cream that combines MSM and magnesium, Venus Williams endorses it.
She says that it helps her to recover so she can be at her best when playing tennis. There is no doubt that this cream works.
We really like that it contains lemongrass, which is great for relaxation. Unfortunately, it includes a lot of ingredients that we can't pronounce and that aren't the best for you. One of those is undecane, which is a petroleum derivative.
All in all, we think that if you are looking for a high-quality product, there are better options listed above.
Highlights
Helps relieve muscle soreness
Great for relaxing
---
What is MSM Cream?
MSM cream is a way to apply sulfur topically and reduce inflammation. Methylsulfonylmethane, or MSM, is usually mixed with other substances like carrier oils or butters to create a liquid form that can be directly applied to the skin.
Depending on the product, it can be sold in a cream, lotion, or gel. They are all very similar, with variations in color and consistency. Some manufacturers will mix the MSM with other specialty ingredients in order to accentuate different aspects and focus on a particular use.
What are the Benefits of MSM Cream?
The primary benefit of using MSM cream is the ability to focus on a particular area or spot of concern on the body. An internal supplement increases the overall sulfur levels in your body. It increases your overall health and mobility, while a cream is great for treating specific issues.
They are especially beneficial for things like arthritis, scars, acne, wrinkles, and pain relief and recovery from athletic events. It works by reducing inflammation and allowing the body to heal itself. Although some people claim that they use MSM for hair growth, we couldn't find any creams with verifiable reviews and results.
Another important note about MSM cream is that you can just use it as needed. On the other hand, with oral supplements you have to consider the correct dosage of MSM.
How We Chose the Best MSM Cream
First and foremost, we care about the ingredients that are in every product. After analyzing each part for safety, we check the quality of them.
At Nature Made Cures, when available, we only use organic and all-natural products that are free of dangerous chemicals like parabens, sulfates, and other petroleum based toxins. So, things that fit that description get higher priority.
Secondly, we care about the companies that make them. Sustainability and environmental impact are essential to us, and with that comes things like animal cruelty and vegan options. So, if a brand has a great motto and is doing more for our planet, that matters to us.
Finally, we only recommend products that work. That means we only recommend things that we have personally used, or we have done extensive research on to make sure you are getting only the best of the best.
We take this health stuff pretty seriously.
Should I Try an MSM Cream?
MSM is pretty awesome.
Many people are deficient in sulfur, and using an MSM cream could have a significant impact on the quality of their lives. From anti-aging benefits to helping with pain relief, adding it to any regular cream or moisturizer has a minimal downside and a ton of possible upsides.
So, the question becomes, why not?
We think that everyone should have an MSM cream in their home ready to use for any occasion. The uses of MSM cover a wide range and could be life-changing.
If you notice any side effects from using any product, discontinue use immediately and contact your doctor.